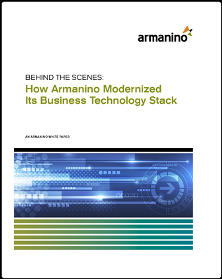 An Armanino White Paper
Behind the Scenes: How Armanino Modernized Its Business Technology Stack
Download the white paper today:

We live in a time of rapid change, and today's business leaders must embrace transformation to help their companies conquer disruption and turn it into an opportunity. Discover how Armanino is transforming using our own best practices and best-of-breed technology solutions.

Our new white paper about our internal technology changes can help your organization:

• Identify the tech solutions that are right for you
• Develop a technology roadmap to ensure each implementation builds on the last
• Automate manual processes to make your finance team more efficient and effective

why armanino?
Armanino provides an integrated set of accounting services—audit, tax, consulting and technology solutions—to a wide range of organizations operating both in the U.S. and globally. You can count on Armanino to think strategically to provide the sound insights that lead to positive action.

When you work with us, we give you options that are fully aligned with your business strategy. If you need to do more with less, we will implement the technology to automate your business processes. At every stage in your company's lifecycle, we'll help you find the right balance of people, processes and technology.