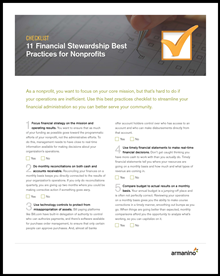 Download your Checklist
11 Financial Stewardship Best Practices for Nonprofits

As a nonprofit, you want to focus on your core mission, but that's hard to do if your operations are inefficient.

Use this best practice checklist to streamline your financial administration so you can better serve your community.

Armanino's Outsourced Finance & Accounting team can help you manage your risk and set you up for future financial growth.
why armanino?
Armanino LLP's Outsourced Finance & Accounting specialists are experienced in the unique accounting requirements of nonprofits of all sizes. We're one of the top 25 largest independent CPA and consulting firms in the nation, with more than 1,000 employees and 200 CPAs across 22 states, in many convenient office locations including:

• San Ramon, CA (headquarters)
• San Francisco Bay Area (3)
• Los Angeles, CA (4)
• Dallas, TX
• Naperville, IL

We keep your data safe and secure using leading cloud software solutions.