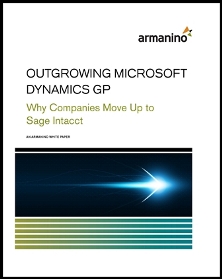 An Armanino White Paper
Outgrowing Microsoft Dynamics GP: Why Companies Move Up to Sage Intacct
Download the white paper today:

Growing organizations need to ensure their accounting systems scale along with their needs. Learn why many organizations choose to move to cloud-based Sage Intacct after Dynamics GP.

Take a peek inside to discover:

• Signs you are outgrowing your current ERP
• How to establish the business case for upgrading
• A proven roadmap for switching from Dynamics GP to Sage Intacct

why armanino?
Armanino provides an integrated set of accounting services—audit, tax, consulting and technology solutions—to a wide range of organizations operating both in the U.S. and globally. You can count on Armanino to think strategically to provide the sound insights that lead to positive action.

When you work with us, we give you options that are fully aligned with your business strategy. If you need to do more with less, we will implement the technology to automate your business processes. At every stage in your company's lifecycle, we'll help you find the right balance of people, processes and technology.