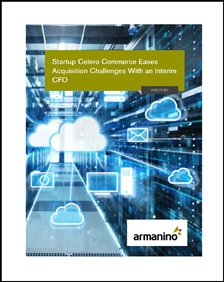 An Armanino Case Study
Startup Celero Commerce Eases Acquisition Challenges With an Interim CFO
Download the case study today:

Celero Commerce provides an integrated solution to help meet the needs of business owners, allowing them to focus on running their businesses, rather than managing multiple third-party software vendors and payment service providers. As a startup acquiring a company as part of its formation, Celero needed to quickly secure senior CFO expertise. It turned to Armanino's Rapid Deployment CFO services for an interim CFO to handle acquisition efforts and help merge people, processes and systems.

Software & Services

• Armanino Rapid Deployment CFO service

Benefits

• Delivers rapid access to senior CFO expertise
• Provides CFO capabilities as a seamless part of the executive team
• Reduces time pressure for hiring a permanent CFO


"Armanino gives us the bandwidth to be patient. For anyone who is acquiring a company that doesn't have a CFO on staff or with the right skills, turning to Armanino Rapid Deployment CFO service is a no-brainer."

– Kevin Jones
why armanino?
Armanino provides an integrated set of accounting services—audit, tax, consulting and technology solutions—to a wide range of organizations operating both in the US and globally. You can count on Armanino to think strategically, to provide the sound insights that lead to positive action. We address not just your compliance issues, but your underlying business challenges, as well—assessing opportunities, weighing risks, and exploring the practical implications of both your short- and long-term decisions. At every stage in your company's lifecycle, we'll help you find the right balance of people, processes, and technology.