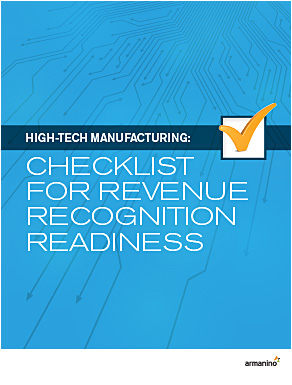 DOWNLOAD YOUR
HIGH-TECH MANUFACTURING REVENUE RECOGNITION CHECKLIST
Armanino's guide is your first step to ASC 606 compliance.
Download the checklist.
Complete this form to receive your free copy of Armanino's High-Tech Manufacturing Revenue Recognition Checklist.

The deadline for compliance with the new Revenue Recognition standards is fast approaching. Review this easy-to-follow checklist from Armanino's technical accounting and audit experts to ensure your organization will be ready.
Get prepared!
Did you know that high-tech manufacturers

will have to adjust the timing of recognizing revenue for products sold through distributors under the new standards?

Armanino can get you prepared

for ASC 606 compliance in advance of the deadline.
why armanino?
Armanino LLP is one of the nation's largest independent accounting and consulting firms. Our team of seasoned auditors, accountants and consultants have extensive revenue recognition compliance and documentation experience, as well as technology and process improvement expertise to support you.